In Perils Abounding
A Commentary on the Book of Acts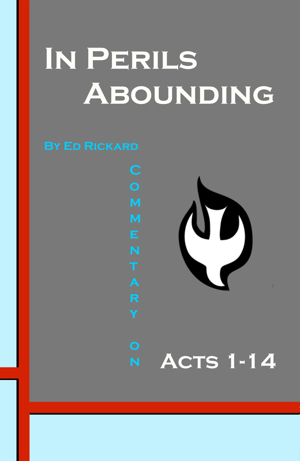 Overview
One of the most effective preachers of the gospel was the apostle Paul. After a long career of witnessing for Christ throughout much of the Mediterranean world, the Jews arrested him and sought to kill him. But their hands were tied because he was a Roman citizen protected by Roman law. When they handed him over to the Roman authorities and laid false charges against him, he appealed to Caesar. He then journeyed to Rome for trial, and the physician Luke, his traveling companion in several earlier journeys, accompanied him. Many scholars believe that in Rome, Luke wrote both the Gospel of Luke and the Book of Acts, also known as the Acts of the Apostles, to assist in Paul's defense.
Ed Rickard's commentary on Acts is a work on several levels, designed to give the reader an opportunity to pursue his own path of learning. Attached to a lively retelling of the basic story are four kinds of focused discussions.
1. Getting practical. Lessons for daily life are drawn from the text.
2. Pondering a question. Here, questions are answered that Luke's narrative is likely to raise in the reader's mind.

3. Delving deeper. More challenging issues are weighed in depth, such as historical background, fulfilled prophecy, errors in critical attacks, proofs of Luke's accuracy, theological implications, and reasons behind what the apostles did.
4. Delving still deeper. Where appropriate, an even more technical commentary is provided.
Availability
The printed commentary is projected as two volumes. The first, covering Acts 1 through 14, is now available at Amazon.com.
Lessons treating Acts 15 through 28, as well as the earlier chapters, are provided on this website. Just click here.



The book is © 2012, 2017 Stanley Edgar Rickard (Ed Rickard, the author). All rights reserved.