Primer of the Christian Life
A Detailed Map of the Pilgrim's Road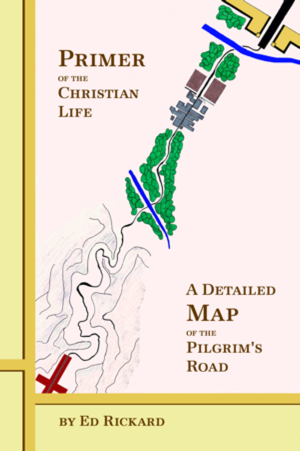 Overview
Primer of the Christian Life is designed to serve as the textbook for a yearlong course on basic Christianity. The course objective is to teach in detail all the disciplines essential to growing in Christ. The thirty-four topics include faith, repentance, belonging to a church, daily devotions, prayer, finding God's will, the world, the flesh, the devil, witnessing, suffering, persecution, and our heavenly home.
A full discussion of each topic is followed by study questions. At the end of the book is a curriculum guide as well as an extended list of Christian biographies.
The course is best suited for college, but may be adapted for an adult class in church or a Bible class at the secondary level. Among its unique features is frequent use of illustrations from history and literature.
Introduction
Becoming a Christian is not the end of your spiritual journey. It is simply the gateway to a new journey, retracing the steps of Christian in Pilgrim's Progress. Your path will visit quiet streams and green valleys where you will find rest and strengthening, but it will also wander through places of temptation, danger, even soul-rending battle.
It will be a narrow, winding path, not made for crowds of travelers. Your walk would sometimes be lonely except that you will always have a companion, the Lord Himself, who will accompany and help you because He desires your fellowship. Yet if you wish to enjoy a continuing sense of His presence, you must be sure not to stray onto a wrong path. A good map based on God's Word will be very useful.
Outline
REPENTANCE
FAITH
BAPTISM
BELONGING TO A CHURCH
PERSONAL DEVOTIONS
CONDITIONS TO BE MET FOR SUCCESSFUL PRAYER
CORRECT PROCEDURE FOR PRAYER
THE BIBLE AS GOD'S INERRANT GUIDEBOOK
PRINCIPLES OF BIBLE STUDY
HOW TO INTERPRET THE BIBLE
HELPS FOR BIBLE STUDY
WITNESSING FOR CHRIST
GIVING TIME AND MONEY TO GOD'S WORK
TESTS OF GENUINE FAITH
ETERNAL SECURITY
PRINCIPLES FOR FINDING GOD'S WILL
MORE PRINCIPLES FOR FINDING GOD'S WILL
THE TEMPTATION OF CHRIST
SATAN
THE WORLD
THE FLESH
BESETTING SINS
SUFFERING
PERSECUTION
LOVE AS THE FULFILLMENT OF THE LAW
THE EXCELLENCE OF BROTHERLY LOVE
SINS AGAINST BROTHERLY LOVE
CONFLICT RESOLUTION
THE SIN OF REBELLION
THE SCOPE OF AUTHORITY
GODLY LEADERSHIP
THE UNPARDONABLE SIN
THE ETERNAL LIFE THAT AWAITS US
WHERE WE WILL LIVE AND WHAT WE WILL DO
Availability
The primer is available from Amazon.com.
The book is © 2007, 2015 Stanley Edgar Rickard (Ed Rickard, the author). All rights reserved.