The Vegetable Soup Gang
The wacky adventures of some boys
who love the Lord,
but who are still not perfect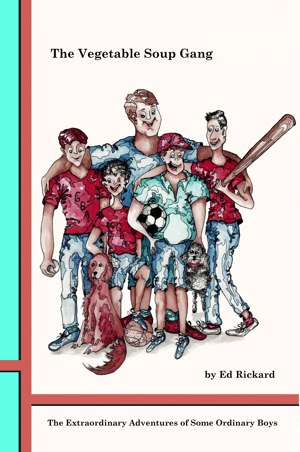 Overview
The Vegetable Soup Gang is a collection of humorous stories about a gang of boys who attend Gracefaith Bible Academy in Weedyfields, USA. Besides offering entertainment, the stories show how Christian young people should deal with real-world problems. They teach the right balance between tolerance and intolerance of ungodly lifestyles next door. They illustrate the need to restrain inappropriate romantic longings. And they give vital instruction on recognizing and resisting predators seeking to corrupt the young.
Young people will not, however, see it as basically a serious book. Rather, they will feel part of a gang that finds life to be full of excitement.
Although the book addresses issues that teenagers face in today's world, nothing is especially inappropriate for younger children. Still, parents should read it first before giving it to them.
Availability
The book is available from Amazon.com in printed format. To read a sample, you may download chapter 1 in PDF format.
The book is © 2012 Stanley Edgar Rickard (Ed Rickard, the author). All rights reserved.